Buy Now at the Lulu Discount:
Mak the Kraken is the heartwarming tale of a giant young sea creature from the undiscovered depths of
the ocean whose dreams of friendship drive him to adventure at the surface of the ocean. Mak's
determination to change the perception that Kraken are ugly sea monsters takes him through the
challenges of people fearing him. It is a story of persistence, accepting those who are different and
achieving goals, woven through a tale focused upon conservation of the ocean's resources. Mak the
Kraken is a young sea creature determined to change legendary perceptions about kraken. Teaches
ecology, conservation, determination & diversity. The artwork of Nick McCarthy captures the very
essence of sea life and the kraken. His pointillism is a lively art form that brings the book to life.
Book Excerpt From Mak the Kraken
Mak had seen the legends come to life in his trips to the surface of the water, just as his parents and
grandparents had told. If it was a pirate ship, he could expect them to shoot their cannons at him in case
he was trying to steal their treasure. If it was a fishing boat, he could expect harpoons to be launched at him in hopes that they could bring him back for dinner (and not as a guest). If it was a sailing vessel he would expect them to call in the Coast Guard to figure out what to do with him.
But if it was a science exploration, he thought they would want to capture the Kraken to study him. Mak
knew the scientists helped marine life. He had heard stories about them taking injured seals to places on
land to get well. There were legends of people tagging and releasing sea lions back into the water and
Mak wondered if they would tag and release him.
• Author: London J. Maddison
• Illustrator: Nick McCarthy
• Publication Date: November 11, 2016
• Publisher: Lulu
• ISBN: 978-1-4834-6029-1
• Ebook ISBN: 978-1-4834-6028-4
• Retail Price: $18.99
• Page Count: 31
• Genre: Children's
• Officially Available on: BarnesandNoble.com, Lulu.com, Amazon.com
Photos of Mac the Kraken at the Copyright office in Washington D.C.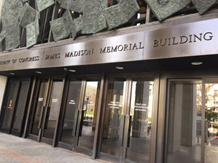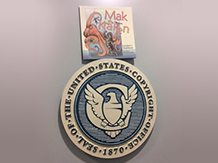 From the Book by London J. Maddison:
As he approached the ship, Mak would carefully lift one eye out of the water, just above the surface, to peek at the ship and see if it were filled with fishermen, sailors, pirates or scientists.  He had to be careful because each group of people treated him in a different way if they caught a glimpse of him.  
A question from Mak the Kraken:    Did you know that 95% of the ocean's creatures are still undiscovered?

If you're interested in new stories, check back often to find out when they are being published. We also invite you to follow our social media sites for updates and free stories and poems from time to time!