Written by London J. Maddison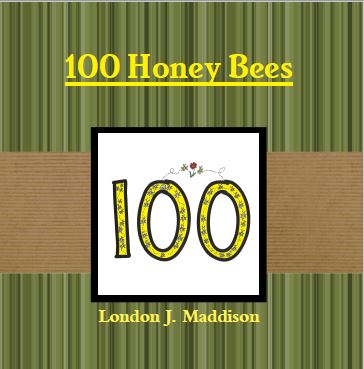 For Immediate Release: Laguna Niguel, California. May 7, 2019
The new children's book, "100 Honey Bees" was released this week by Lulu Publishing. The book is available in electronic and print versions on Lulu.com and through other major publishing outlets such as Amazon and Barnes & Noble. It is an educational, entertaining book that draws children into the STEAM world (Science, Technology, Engineering, Art/Architecture and Math).
"This book and its illustrations were inspired by second and third graders, and a teacher who was searching for a book for these grade levels to teach counting in 100's." Indicated author, London J. Maddison. "It is my hope that it will teach and inspire young minds in math and science, which can eventually open opportunity for careers in engineering, architecture, planning and fields that sustain the world around us."
100 Honey Bees inspires math learning and science discovery through creatures in our natural environment and promotes sustainability through education. It uniquely helps students learn while having fun with numbers and natural science. Learning the basics of math and science leads to an understanding of their application in engineering. From honey bees to wildebeests, sardines to starlings, crazy ants to frogs, geckos to dolphins and caterpillars to monarch butterflies, this book encourages learning about the natural world around us. 100 Honey Bees teaches adding and subtracting in hundreds up to 1,000 while integrating science, nature, literature, poetry and child-inspired art. The illustrations, inspired by second and third grade students, introduce technology with all color added and edited using image design software. The book includes a unique glossary and messages to provide answer to many of the questions children might ask.
To purchase a copy of 100 Honey Bees, visit: