London J. Maddison and Nick McCarthy have created a new children's book released this week. "Mak the Kraken" is a heartwarming tale of a young sea creature from the undiscovered depths of the ocean. It is a story of persistence, accepting those who are different and achieving goals woven through a theme focused on conservation of the ocean's resources. Enjoyed by ages preschool through third grade. Available to order on Lulu.com as of December 1, 2016.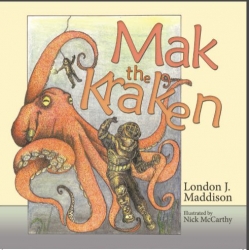 Laguna Niguel, CA, December 03, 2016 –(PR.com)– "Mak the Kraken," one of the most inspiring children's stories of the decade, was released today by Lulu Publishing. The book is available in electronic and print versions on Lulu.com and will soon be available through other major publishing outlets.
Inspired by science and research showing that 95% of the ocean's creatures are still undiscovered, the story takes children on a journey with this young Kraken. It is a legend of persistence, diversity and achieving goals, woven through a tale ultimately focused upon conservation of the ocean's resources.
"Mak the Kraken is an imaginative story with brilliant illustrations by Nick McCarthy that bring the tale to life," Indicated London J. Maddison, author, "The book offers multiple levels of opportunity to meet learning objectives and for teaching about the undiscovered wonders of the ocean, conservation, accepting those who are different and following dreams."
Five percent of the profits from the book will be dedicated to ocean education institutions. The book includes a unique glossary and to answer to many of the questions children might ask for a deeper level of education. The book provides both fiction and non-fiction elements for ultimate learning.
To order the book visit: eBook: http://www.lulu.com/content/e-book/mak-the-kraken-illustrated-by-nick-mccarthy/19918712 Softcover: http://www.lulu.com/content/paperback-book/mak-the-kraken-illustrated-by-nick-mccarthy/19882445
About the Author, London J. Maddison
A certified by the American Institute of Certified Planners (AICP) and a LEED Accredited Professional, the author has written about the environment for over 30 years with over 300 published articles, documents and stories. London J. Maddison is a pseudonym used to separate professional and writing careers. A first generation American of British heritage, London works and resides in California and Hawaii. Additional publications by London J. Maddison are in various stages of the publishing process. https://sites.google.com/site/londonjmaddison/
Facebook: https://www.facebook.com/profile.php?id=100011412121704
Linked In: https://www.linkedin.com/in/london-j-maddison-5616a0114
twitter: @londonjmaddison, @makthekraken
About the Artist, Nick McCarthy
Nicholas (Nick) McCarthy is a San Francisco, California Bay Area local, living in Concord, CA. Nick attended California State University, Monterey Bay where he received a Bachelor of Arts Degree in Mixed Media Design. Nick specializes in illustration, focusing on pointillism and realism. He is involved in exhibitions all around Northern California and across the country, having illustrations at the National Steinbeck Center in Salinas and the Bedford Gallery in Walnut Creek, CA. Some of these book illustrations have been featured in past and will be featured in future exhibitions.
Nick can be contacted at nick5036@gmail.com or through his website: https://nicholasmccarthy@allyounet/4975584
Contact Information:
London J. Maddison
Barbara Eljenholm
949-500-6814
Contact
https://sites.google.com/site/londonjmaddison/